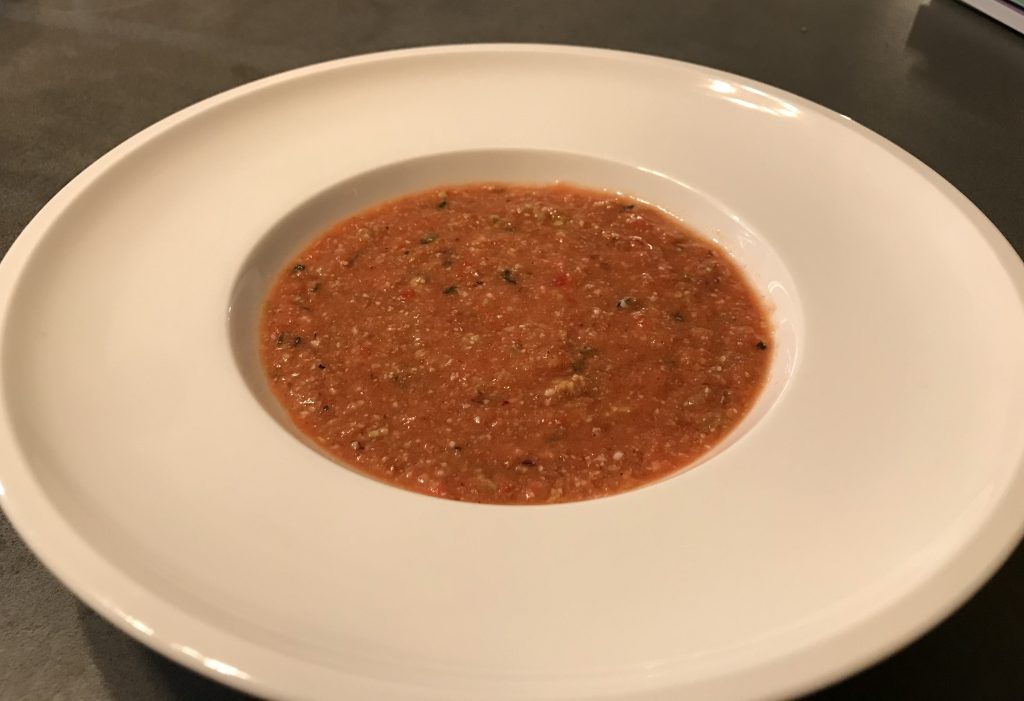 In college, my friends and I joked that fast food would eventually evolve to the point where young professionals in suits would beer bong a perfectly balanced meal at a chain down the street to get their lunch down in minutes. We haven't gotten there yet but this cold soup is certainly close. An incredible combination of superfoods that's cheap, you can make in no-time and grab quickly from your refrigerator when it's time for work.
Gazpacho brings me right back to the "turn" playing golf midday in the summer as a high schooler… ah, screw that, most food blogs do this storytelling thing right about here in the post but I know you don't care about me and my lifestyle so let's get to why you should care about this. It's time for:
THE BENEFITS OF THIS EPIC SOUP AKA WHY THIS IS A LIFEHACK:
My Complete-Meal-In-A-Cup gazpacho is low carb, slow carb and whole 30 compliant. It's damn good and only takes about 15 minutes to make. I'm not even on any of those diets and I make it almost every month. I've always looked for super-light lunch solutions (mainly salads) because I've found that a calorie bomb midday slows me way down and I'd rather jam through my work and leave at a reasonable hour. Plus, if meetings run over or cram you out of a lunch break, gazpacho requires no re-heating and is very easy to down quickly. 
As far as pre-prepared lunches go, this one matches the Sunday preparation requirements perfectly:
Quick to make — a fraction of the chopping of salad prep — let a blender do that work
Barely any clean-up because most blenders also do that themselves
Cheap because you won't get conned into eating out for lunch; and if you're in college, you can get a lot of these ingredients frozen or canned and it'll still be delicious
Easy to grab-and-go and it stores efficiently in the fridge all week; I keep it in these long narrow mason jars because they use a lot of the vertical space of a fridge that other tupperware won't maximize
Having a Vitamix probably helps a lot with getting that speedy chop going plus easy clean up — you can just run it with water on high for a few mins and it's clean.
For the record, I don't usually post recipes on this blog but my wife said she wouldn't buy ingredients for my recipes unless they're on Pinterest. I think this will allow it to be "pinned" although I don't know how Pinterest works.
INGREDIENTS
The ingredients are ALL optional. Do what tastes good.
Take a quick browse and you'll notice this thing is healthy as all hell. Protein, veggies and fiber all in one delicious package. 
I've listed the ingredients in order of unusualness in order to catch the attention of people who are quickly browsing:
3-4 hard boiled eggs — source of protein and gives the soup a creamier, thicker consistency
1/2 cup shelled edamame — more protein; I usually get this frozen and pre-shelled from Trader Joe's
3-5 vine-ripened tomatoes (about 1 lb) — it's OK to use canned, in fact, in some climates/seasons, those will be better
1/2 a can of V8 or 4-6 ounces of tomato/vegetable juice
3-4 TBSP of ground flax seed — you can hide a ton in there, thickens the soup and gets you some healthy fiber and fatty acids
3-4 TBSP of red wine vinegar
3-4 TBSP of EVOO (together, these are like a salad dressing)
1-2 green or red bell peppers — you can also get away with these frozen in a pinch
1/2-3/4 of a hothouse cucumber — no need to peel
2-3 cloves of garlic
1/2 a red onion
Dash of hot sauce
Ground pepper like a madman
1-2 TBSP of salt
That'll make about a Vitamix-worth of gazpacho which translates to about 3 tall mason jars of the stuff (18 ounces each). I find that half a mason jar is a normal lunch amount for me but sometimes I have a whole jar if I'm hungry.
PREPARATION
Start hard boiling your eggs using your preferred method — I use this really easy Dash Rapid device. This takes the longest so do this first and they'll be ready when you're done.
Second, I grind up the flax seed in the Vitamix because it won't get shredded up enough if you dump it in with everything else. When you pour it in, it won't reach the blender teeth but when you run it on high, the breeze will suck it in and grind it to bits. Side note: If you grind up flax seed on a weekly basis, this is a good time to do it… dump the excess into a container for the fridge and leave enough in there for your gazpacho.
Next, cut up all the produce. Here's the cool part: you BARELY need to cut this stuff up. Rinse it all off and you can just cut it into big 1-2 inch square chunks. The bell pepper will need some seeding, the onion/garlic some peeling and I like to cut the top off the tomatoes, but otherwise, it can all go right into the blender with a rough chop.
As you chop things up, you can toss it right into the blender to minimize clean-up. Try to get the liquid into the blender first, then the tomatoes and cucumber, then the rest… for an optimal blend.
Run the blender on LOW for about 15-20 seconds. Then, taste it, make any additions (usually salt and pepper) and run again for about 15 seconds. It will taste about 3x better once cold. If you're using a Vitamix, flip it on at 1, turn it up to 2 and let it hang there… the veggies will gradually get sucked down into the blades.
Pour into individual mason jars or one big pitcher and refrigerate! You can serve it immediately if some of the ingredients were frozen because that stuff will cool down your room-temp items.
This is seriously one of the most pro moves ever. To hell with all those people who think this is just drinking salsa. It's an unmatchable fast, easy and cheap meal with incredible nutrition… it's the Complete-Meal-In-A-Cup Gazpacho.