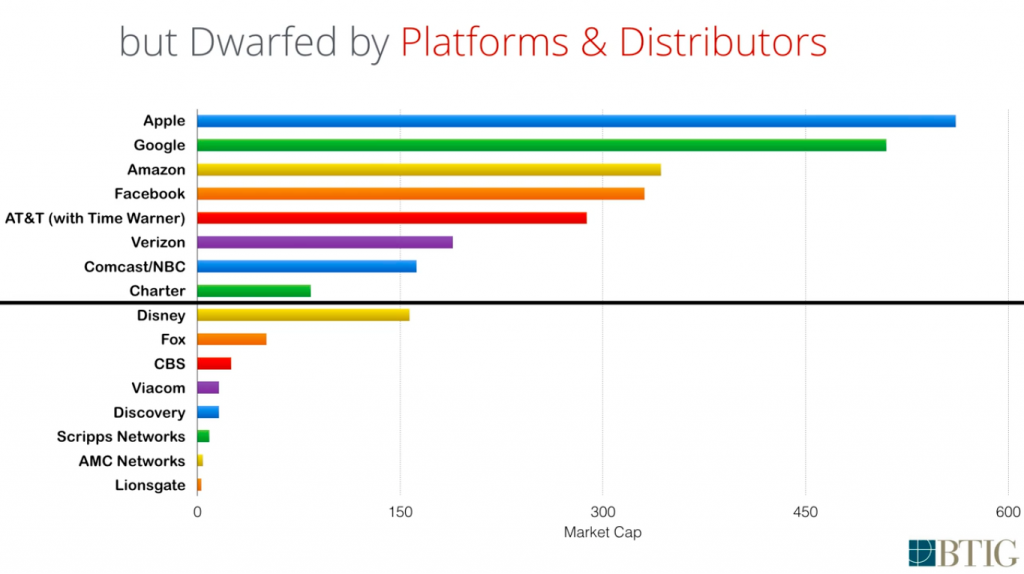 I LOVE LOVE LOVE this slide from Rich Greenfield at BTIG. His whole presentation is definitely worth the watch but this one graph truly says it all. (And I'm always trying to pull it up online to share in meetings… so I'm also posting it here to make that much easier.)
In the presentation, Rich first shows market caps of the companies below the line — all of our beloved entertainment creators. We see them in print and on every screen and think of them as massive, powerful companies. Then, he layers on the market caps of the "platforms" and distribution companies that sit between those companies and their audiences… and it's easy to see how those content co's are dwarfed.
Rich is looking at this through almost exclusively through a lens of financial analysis and market value… which might not tell the WHOLE story, but it paints a pretty dim picture for content creators and brand owners: Content is not king.
Some things worth noticing (many of these points are made by Rich):
None of the entertainment companies below the line — even the juggernaut, Disney — has a meaningful direct-to-consumer platform… they all depend on the companies above the line to reach their audiences
Apple could buy Disney in cash
Google or Apple could buy the entire entertainment industry in cash, except Disney
Every one of the distribution companies above the line have meaningful plans to make their own content that they own completely and perpetually (in other words, they could start to make their own content without depending on the content companies and their brands)
Netflix isn't even on here but its market cap around $70B, making it bigger than everyone but Disney
Neither is Snap… it's much smaller than Netflix at $20B (as of this writing), but it still stacks up above Viacom, Discovery and others
The digital-oriented distributors like Facebook, Apple, Google and Amazon have incredible volumes of data and knowledge describing their audiences, which is a huge advantage in content creation
While some of the content companies have partnered with and invested in the FANGS companies, they've missed their chance to buy one of them or build their own; Hulu is the only example and they half-heartedly participate in it
Nobody has been able to successfully create a large "direct to consumer" platform with content or brands alone… Netflix had to use DVD rentals, Amazon is using ecommerce, Spotify is using music and UI. In other words, we haven't seen someone earn lots of subscriptions and ad revenue by only saying "we have ESPN." It's always content paired with some other strategy.
What Rich calls the "punchline" is this great thesis: content companies — especially Disney — have to make an acquisition in order to complete their business. What should they buy? Well, all of their options SUCK. Netflix is too expensive. Snap and Twitter don't come with subscriptions. Pandora or Spotify aren't video platforms.
That punchline explains many of the plays we see being made around the industry: Twitter continuing to pursue video in an attempt to demonstrate its value as a video platform. Time Warner selling itself to AT&T. Netflix spending billions on original content. NBC investing heavily in Snap. The list goes on…